Discover more from Working Together
Exploring how we can build better organizations through leadership, freedom, and humanity.
📲Who Needs Another LI Connection?
Not me!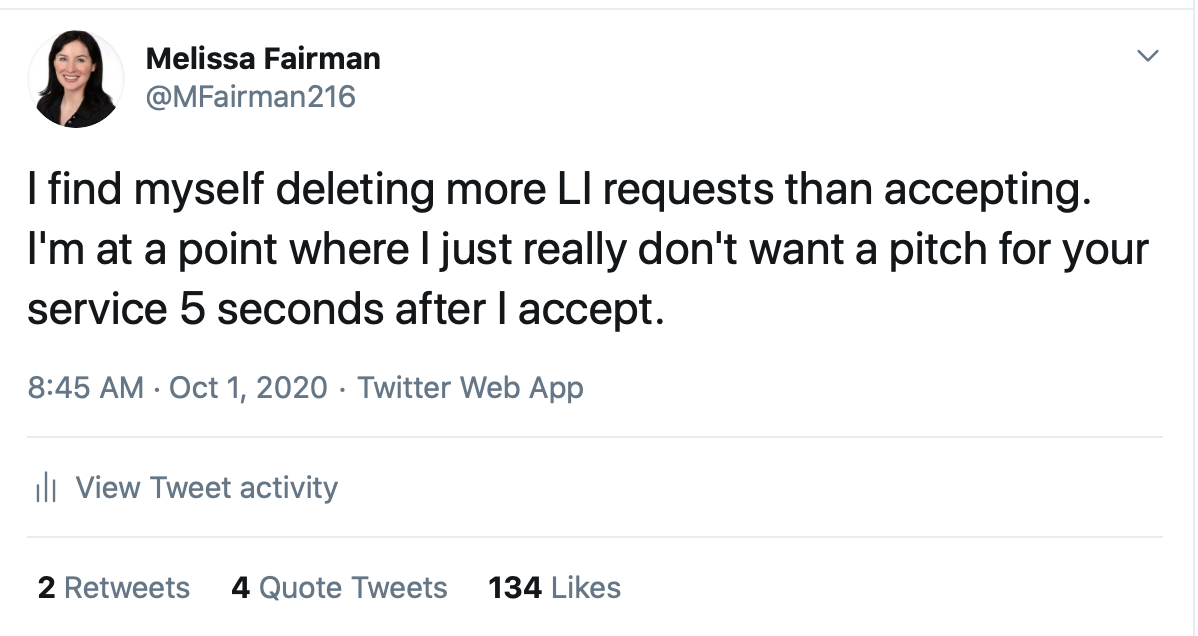 A surefire way to stir conversation appears to be complaining about LinkedIn.
👩🏻‍💻I posted the above a few days ago, and I think its been one of the most liked Tweets I've ever posted. I wrote this out in frustration after accepting three LI requests and receiving three automatic messages from people telling me about how their product or service would help me, and could I spare some time to talk.
I get it. Everyone has a job, and sometimes you have to cold call, but the volume and the lack of real attempt to connect is frustrating, to say the least. Thanks to Twitter (another frustrating platform at times), I received some great suggestions on how to combat this:
Set your profile to private

Don't accept any request unless it's from someone you have actually met (phone or in-person)

Change the "connect" button to "follow"

Don't accept any connection requests without a personalized message
BUT I do want to hear from YOU
If we aren't connected on LI, send me a request and tell me what you think of this newsletter! I hope to hear from you!
---
What I'm Reading, Listening To & Watching
📖 Lately, I've found inspiration reading about leaders throughout history, most recently Winston Churchill.
The relatively short book (322 pages), Darkest Hour, chronicles Churchill's efforts to bring warring factions of the British political system together to fight the Nazis. This was not an easy task as many doubted Churchill was the right leader and questioned if a peace deal with the Nazi's might be a better option than open war.
The book not only provides a riveting play-by-play of the events leading up to Churchill's famous "We Shall Fight on the Beaches" speech but also gives us great insight into his speech writing process.
If you aren't familiar with the "We Shall Fight on the Beaches" speech from June 1940:
Even though large tracts of Europe and many old and famous States have fallen or may fall into the grip of the Gestapo and all the odious apparatus of Nazi rule, we shall not flag or fail.

We shall go on to the end, we shall fight in France, we shall fight on the seas and oceans, we shall fight with growing confidence and growing strength in the air, we shall defend our Island, whatever the cost may be, we shall fight on the beaches, we shall fight on the landing grounds, we shall fight in the fields and in the streets, we shall fight in the hills; We shall never surrender, and even if, which I do not for a moment believe, this Island or a large part of it were subjugated and starving, then our Empire beyond the seas, armed and guarded by the British Fleet, would carry on the struggle, until, in God's good time, the New World, with all its power and might, steps forth to the rescue and the liberation of the old. <chills>
🎧 Minda Harts has been fighting to get women of color a seat at the table through her work, speaking, and writing. In this great podcast episode, she discusses how she wants to leave the workplace a better place, her book The Memo and her journey from the corporate world to blogging, social media, and active advocate for women of color.
📺 One of the earliest live events that are seared in my brain is watching the Challenger explosion. As a kid who wanted to be an Astronaut it was shocking to see the shuttle explode. Netflix recently released a four-episode documentary series exploring what led to the Challenger disaster. It is a riveting documentary series that explores the space program culture, NASA leadership, and astronauts.
It's a sad, beautiful exploration of a tragic historic milestone.
What are you reading, listening to, or watching this week?
---